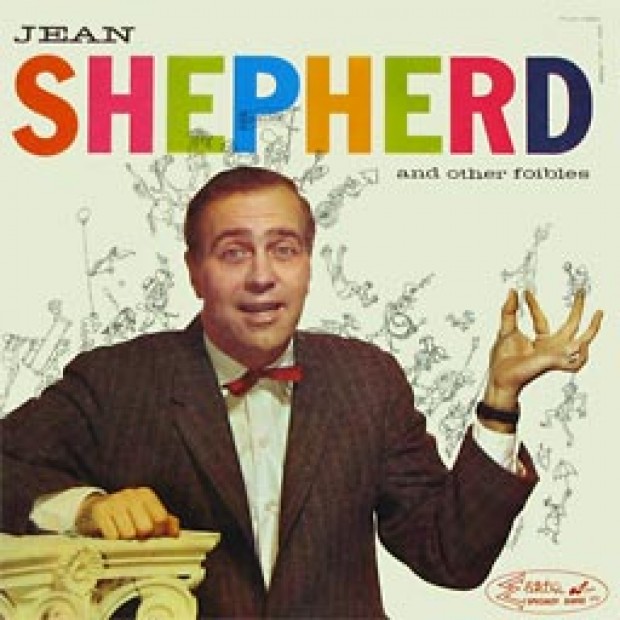 Although I've posted previously on the cult radio monologist Jean Shepherd, and though I liked a lot of what I heard, I never fully got it until I followed the advice of a number of people who have memorialized him in different pieces over the years. The one thing that everyone who writes about Shepherd has in common is that they listened to him at night, while lying in bed in the dark. His WOR show--which ran forty-five minutes every night--aired at eleven PM (with a re-broadcast at one AM) and seemed to speak to something deep in the nocturnal soul.
Last week I found
this terrific site
which has complete Shepherd shows going back to the fifties and through the mid-seventies, when he (more or less) left radio. I got into bed one night, put on a show which ran from the beginning (and not just an excerpted bit), closed my eyes and let him take over. And lo. The effect was as all-encompassing, deep, funny and weirdly transcendental as everyone said it was. I've been doing it pretty much every night now and I highly recommend it. Why does Shepherd work so well when listened to this way? I think because he's not about the active, in the moment thought process. He's about the dream spectrum, how we think in free-association mode when we're not really "thinking". Most importantly, just as the brain has a remarkable ability to take a series of random thoughts and come out the other end with a sort of conclusion, so do Shepherd's monologues. Subtly, even connivingly, he"action paints" his way into a storyline without you being aware of it. And by the end he wraps it together and leaves you with the oddly satisfying feeling of having been taken on a wonderful journey without you having been told you were about to go anywhere at all.
Here's Shepherd doing a live broadcast from the Limelite Club in the 50s, a full fifty minutes of stuff. But go to the above site and check out more of the in-studio shows. The lack of an audience creates a more intimate vibe, though Shepherd in front of an audience is pretty good too.
Subscribe in a reader