Dame Margaret Rutherford, the star/host of my father Frank De Felitta's 1964 documentary which I've posted below, was not quite the quaint and cozy biddy that her screen persona offered. Indeed, I've unearthed (without a lot of effort--thanks to Wikipedia) some rather startling facts about her. Who would have thought, for instance, that Dame Margaret's father "suffered from mental illness, having suffered a nervous breakdown on his honeymoon, and was confined to an asylum. He was eventually released on holiday and on 4 March 1883, he murdered his father, the Reverend Julius Benn, a Congregational church minister, by bludgeoning him to death with a chamberpot; shortly afterward, William tried to kill himself as well, by slashing his throat with a pocketknife. After the murder, William Benn was confined to the Broadmoor Criminal Lunatic Asylum. Several years later he was released, reportedly cured of his mental affliction, changed his surname to Rutherford, and returned to his wife, Ann (née Taylor)."
Hm. I know Wikipedia has a penchant for simply being wrong, but could somebody have truly made the above up? And if so why about Margaret Rutherford? Here's more:
"As an infant Rutherford and her parents moved to India but she was returned to Britain when she was three to live with an aunt, professional governess Bessie Nicholson, in Wimbledon, England, after her mother committed suicide by hanging herself from a tree. Her father returned to England as well. His continued mental illness resulted in his being confined once more to Broadmoor in 1904; he died in 1921."
Bad enough about her unstable parents, right? But the apple doesn't fall far. Consider: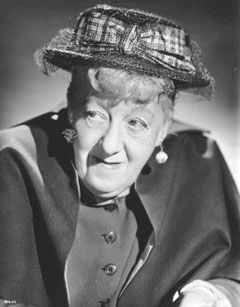 "Rutherford married character actor Stringer Davis (who appears in "Stately Ghosts") in 1945 and the couple appeared in many productions together. Davis rarely left her side. He was private secretary and general dogsbody - lugging bags, teapots, hot water bottles, teddy bears and nursing Rutherford through periods of depression. These illnesses, often involving stays in mental hospitals and electric shock treatment, were kept hidden from the press during Rutherford's life. In the 1950s, Rutherford and Davis unofficially adopted the writer Gordon Langley Hall, then in his twenties. Hall later had gender reassignment surgery and became Dawn Langley Simmons, under which name she wrote a biography of Rutherford in 1983."
What? They adopted a young man who turned himself into a woman and then wrote her biography? What the hell is going on here? And what's with the "teddy bears" that her husband lugged around for her?
The rest of the film is posted. Enjoy. I need a long rest after this...
Subscribe in a reader