Welcome to the new, daily, unpredictably discursive, wildly prolix and entertaining blog-a-thon about my soon to be released movie, "ROB THE MOB". I will be blogging madly--pretty much every day if not multiple times a day--leading up to the theatrical release of the movie, slated for March 21st of this brand new year.
Consider this my attempt to emulate Jerry Lewis, in the prime of the telethon. Jerry would sweat, smoke, pop pills and do anything (includng excruciatingly rude imitations of the poor hicks from the hinterlands who came bearing donations to the MDA) to keep the interest from flagging. As I don't smoke, pop pills or do imitations (not strictly true--I have to
really know and trust you though
), I will post instead. Jesus, will I post.
In addition to posting past photos and videos of the on-set experience of the making of the film, I'll be venturing into historical stuff--New York in the early 1990's (which is when the film takes place), Mafia history, history of movies about the Mob, and lots of clips of the meatballs i.e.--the singers and performers who personify the era of mob domination and mob style.
In case you're new to this blog, it goes back quite a ways (to 2007--practically the dawn of the blog) and is essentially a catch-all cultural dustbin for all kinds of crap that I've been obsessed with over the years--primarily old movies, old music--jazz, standards, Broadway, whatever--history of New York and Hollywood, rare footage of the aforementioned cities and lately (for some reason) the history of houses that various film directors have lived in over the years.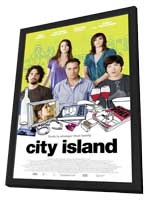 But for a big stretch in 2008-2009, the blog was given over to the making and marketing of my movie "City Island". We actually attracted quite a following and I experimented with the same idea again this past spring when we shot "Rob The Mob"--though to a slightly less exuberant extent. The CI posts are all still up as, of course, are the more recent RTM posts--but I'll be refreshing and reposting those in the coming weeks.
In a shocking change from my previous blogging efforts, I'm going to endeavor to keep the posts short, to the point and entertaining...so check in a couple of times a day and see what's new in the way of...crap about all things mob-esque. Meanwhile, let's kick off with the RTM trailer followed by a meatball moment, one of the truly distinguished paisan's of the post-war era, Buddy Greco...
Subscribe in a reader