What do we mean when we apply the word 'meatball' to a male singer? What are we really trying to say? The 'meatball', such as it is, is a round, plumply packed combination of meats and bread, seasoned to taste. And it is an Italian-American staple, found in a large round dish on the table of your Aunt's house every Sunday along with pasta, ribs, a roast, the large salad that nobody ever eats, canolis etc.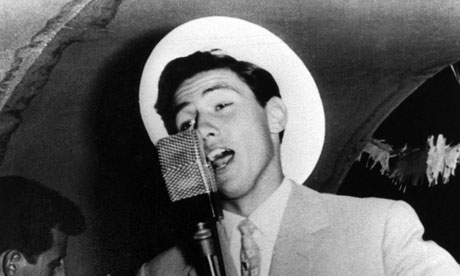 But "Meatball" was also the casually racist word used to describe a handsome, young(ish) Italian American crooner from a certain period. Vic Damone, Tony Martin, Jerry Vale, Lou Monte...only Sinatra rose above the derogatory reference, in part because everybody was scared shitless of him. Had Tony Bennett not moved away from novelty material in the mid-fifties, he would have probably become the meatball king--to say nothing of the sausage. But I digress...
Like their namesake, 'meatballs' were oftentimes round, plumply packed and found in the living room (or sometimes the bedroom) of your relatives homes--at least their records were. The 'meatball' was a source of pride to the Italian-American community and always--ALWAYS--sang his heart out to the mothers (and grandmothers) in the audience, who all wanted their boys to be
a nice boy just like Lou/Tony/Jerry/Vic.
They were always available to perform at Cosa Nostra gatherings--gratis, I'm sure, though da' boys were well known for slappin' the Franklins around--and they sang at all of the major crime family's weddings, birthdays and holiday parties. Discreet favors--involving disc jockeys and jukebox suppliers--were the return gesture of goodwill from the wiseguys to the meatballs. And it paid to accept those favors in more ways than one--why insult a man who's just trying to do you a little good, right Cheech? Have another Cutty Sark. On us...
Of all the meatballs of the post-war era, none had quite the mysterious power--and sang sillier songs--than Jimmy Roselli. Born in Hoboken (like Sinatra), Roselli's big tune "Mala Femmena" sold over three million records in 1963 yet somehow failed to chart. Mysteriously, his career--which got off with a bang on Ed Sullivan in the early fifties and had the backing of show-biz great Jimmy Durante--sank quite quickly into the murky waters off the Jersey shore. Had he perhaps forgotten to perform at a certain wedding or funeral? Or was it Roselli's penchant for saying things to the press like "I've never done business with organized crime and I never will"--back in the day when the families were adamant that
there was no such thing as organized crime.
But it didn't matter. Italian-Americans all loved Jimmy and he became a kind of unofficial mascot of the culture. Frank may have been Frank, but he went Hollywood, married Ava and Mia, flew around in jets and partied with Schvarza Sammy (among other sins). Jimmy stayed home, a nice Jersey boy. He even retired to Florida late in life--perfect! He was one of the guys, a local who threatened to explode as a star but who wound up making a nice little living instead. In the end, Roselli was reduced to selling his records out of the trunk of his car, parked in Little Italy. Do you think at that moment he wondered if he should have shut the fuck up and done a little business with the boys? Nonetheless, Roselli was a favorite of the wiseguys and the ordinary guys and actually a very fine singer. Jerry Lewis said of him: "Roselli sings as an Italian should sing". What the hell does that mean? Was Jerry funny the way a Jew should be funny? Enough. Lets meet Jimmy and hear him sing his big hit, "Mala Femmena".
Subscribe in a reader