Was five-time Oscar nominated (and one-time Oscar winning) actress
Susan Hayward
a great actress? Or was she a studio starlet who mysteriously evolved into a dark and expressive force that came to represent the dark side of the post war feminine cliche? If the definition of great screen acting is, to quote A.O Scott, an ability to indicate emotional states without overtly displaying them, then Hayward's work is perhaps too over-the-top to rate as first class; she shows you just about everything and more. But this may be missing the point (and the guy missing it, remember, is A.O Scott and not me, for Chrissakes) of what great screen acting is; movie actors who are blunt instruments tend to be the ones that live most precisely in our memories. Thus, Cagney is the ultimate gangster (and even remains a gangster in comedies where he doesn't play one--like "One Two Three"), Wayne the ultimate Westerner, Cary Grant is the ultimate "most urbane man in the world"...etc. There is nothing terribly
subtle
about any of them--they present a persona that is complete and instantly authoritative, thus exposing the old "on the movie screen everything is enlarged so the best acting is the most minimal" point of view as the tired and useless cliche that it always was. If we accept this criteria, then certainly Susan Hayward is the ultimate B-Girl.
Susan Hayward was a blunt instrument who portrayed lonely, betrayed and desperate alcoholic/addicts to perfection and, in a sense, cornered that market (a market that didn't really exist in movies until post-war noir). I don't mean for this to sound reductive--she was capable of playing many other kinds of roles as well. But the damaged psyche of the lost party girl--be they high-toned and show-bizzy ("I'll Cry Tomorrow", "Smash Up: The Story Of A Woman") or down and dirty as they come (Barbara Grahame in "I Want To Live")---was Hayward's special thing. She knew the frenetic sense of fun that proceeded the inevitable empty dawn of remorse. She conveyed the alcoholic personality--sensitive, demanding, hysterical, remorseful--with rare empathy and accuracy.
"Scratch a promiscuous hedonist and you'll find a disappointed romantic." So the saying goes. (Who said it is another question, one that I can't answer, and if anyone wishes to claim authorship by all means do so). Anyway, it was portraying these kind of women--the floozies who could have been saved by the right man, the Bourbon-and-Soda B-girls who once upon a time dreamed of being the fairy princess--that eventually earned Hayward stardom as well as real respect after a long-ish early career in which she worked with a great many talented actors and directors but never quite seemed to take hold. Indeed, after the Brooklyn born Hayward came to Hollywood in the late 1930's (convinced--with marvelous hubris--that she was going to win the role of Scarlett O'Hara)--her unique talents seemed to have been simultaneously recognized by Hollywood and ignored; none of her appearances in her pre-war and wartime movies are memorable, though she always landed a contract somewhere and steadily kept working. (In some ways this reminds me of Lucille Ball's career--if you erased "I Love Lucy" from the history books, Ball would scarcely be remembered for her RKO career even though she was employed non-stop there for years).
Hayward eventually broke through as the drunk wife in "Smash Up: The Story Of A Woman" (first Oscar nom, 1947), hit it big as a sad drunk in "My Foolish Heart" (second Oscar nom 1949), solidified her hard-luck status as singer Jane Frohman struggling to make a comeback after a plane crash in "With A Song In My Heart" (third Oscar nom, 1952) and then proceeded to go all-out dipso in her portrayal of singer Lillian Roth in "I'll Cry Tomorrow" (fourth Oscar nom, 1955, and while you're at it,
see previous post
). This film, along with "Love Me Or Leave Me" (the Doris Day/James Cagney biopic of singer Ruth Etting) is one of the finest examples of a sub-genre that Hollywood briefly perfected before completely abandoning: the "musical melodrama"--a blend of backstage drama, period situations (prohibition, nightclubs etc.) old torch songs and genuinely modern explorations of troubled psyche's (Cagney's sick turn as the madly possesive Gimp Snyder in LMOLM is as disturbing as anything he ever did). Hayward's portrayal of Lillian Roth--a girl pushed onto the stage by her mother who makes it big but who collapses into an alcoholic heap before finding redemption--is a bravura turn. Great as she is, though, the film is hampered by a period-free recreation of the 1920's and some rather sanctimonious stuff involving AA and Eddie Albert as the man who helped bring Lillian/Hayward out of her spiral and "to the other side." (I might as well fully disclose my feelings about portraying AA in movies: it is pretty much always cringe-inducing, impossibly hopeful and simplistically utopian --think of "Days Of Wine And Roses" and how
sensible
Lee Remick seems for staying away from those meetings). Hayward is pretty much the whole show--although Richard Conte is good as her abusive lout of a husband and Jo Van Fleet is superb as her pushy mom. Indeed her best work was still in the future, with her Oscar winning portrayal of Barbara Grahame in "I Want To Live".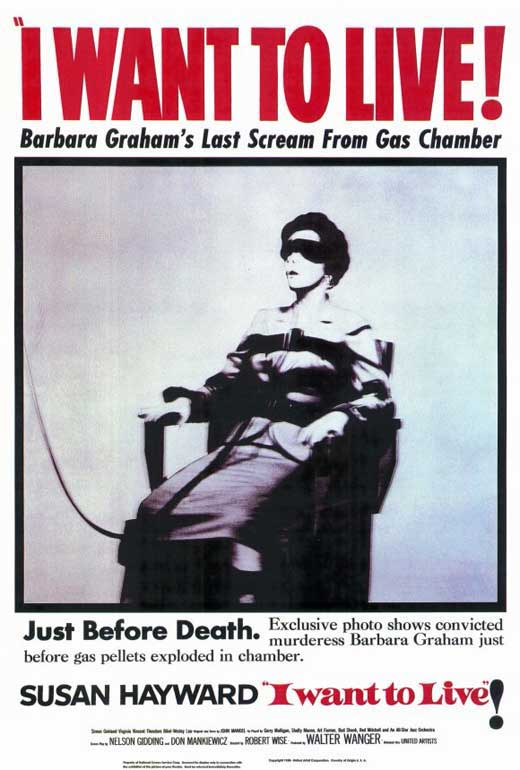 "I Want To Live"
is still an absorbing and shockingly hard to take movie--Hayward is riveting and necessarily repugnant as B-Girl Barbara Grahme who went to the gas chamber for a murder that most people recognized even then she had not committed. The filmmaking is much better here than in "I'll Cry Tomorrow"--Robert Wise directed and pretty much pulled out every trick in his noir playbook as well as giving Hayward a great deal of room to delve much more deeply into the role of her lifetime then most studio-bound directors of the time. (I know that he doesn't get much credit in this department but Wise was a sincerely sympathetic-to-actors director--maybe he didn't talk the talk like Kazan and others of that ilk, but performers generally did unusually well under Wise's careful and always attentive direction). "I Want To Live" is also important as one of the first (though not
the
first as the producers falsely proclaimed) movies to use a jazz score--in this case by the then realitively untested Johnny Mandel. This was very much in the air at the time--"Man With A Golden Arm" was in '56, "Sweet Smell Of Success" in 57 and "Anatomy Of A Murder was coming up in '59--but the soundtrack here is particularly effective.
Susan Hayward died at the far too young age of fifty-seven after a devastating and prolonged battle with brain cancer.
More about her personal life--and what she did professionally (nothing topped her fifties run)--can be learned here.
Yet what usually makes us interested in an actor's personal life is for me missing in Hayward. She was such a force--she gave you so much to see that one tends to avert ones eyes rather than drink her in--that her performances are, in fact, all one really needs. In this sense she reminds me, once again, of Cagney--they each possessed an energy so original and tumultuous that the behind-the-scenes human being never really engendered that much curiosity. Whatever she ultimately was--an actress possessed of real technique or a canny assimilator of the ups and downs of female hard-luck cases--she was a terribly brave performer. And frankly I like the term "performer" better than actor any day...
Subscribe in a reader