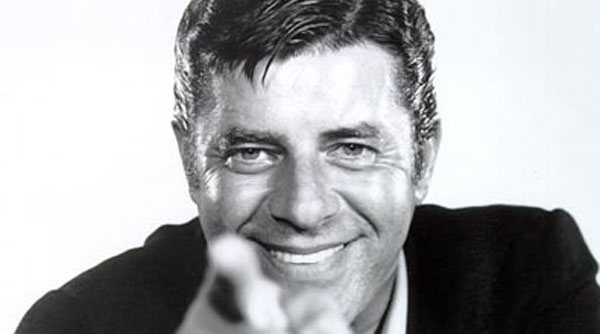 The below is one of the saddest stories I've ever run across in the annals of show-biz. Actually it's pretty fucking sad even without the show-biz angle.
First, behold the below video, a wonderful 1963 "Hollywood Backstage" newsreel that covers a party thrown by Jerry Lewis and his then-wife Patti. The theme, "Think Pink", was chosen because Mrs. Lewis was pregnant. Having previously birthed four boys (the Lewis' also adopted a fifth), Jerry was determined to have a little girl. A man who clearly sets out to get what he wants, he designed a splashy Hollywood party that would collectively, I suppose, drum up enough karma to insure that what was inside Patti Lewis's tummy was, indeed, of the feminine persuasion. Or so I suppose the thought process went. Not too much pressure for the wife, right? Jerry even served pink cake and ice cream--topped with caricatures of Jerry, natch. Present at this very groovy event are Steve Allen, Jimmy Durante, Rory Calhoun, Bob Cummings, Marilyn Maxwell, Harry Guardino and a lot of other names which, when dropped, resounded with a thud...at least back in the so-called day. Keep reading after watching the video.
But Jerry's sixth child was a boy. He was named Joseph. And I imagine he got the impression along the way that he was something of an "error". Or so this article--
his obituary from 2010-
-implies.
I'm sorry to have gotten this hung up on Jerry and his Mr. Hyde side. I'm not so sure it's a side. It may be the whole package. After reading the below, I must say that whatever gallows-like humor I've found in Jerry dark side over the years is fast disappearing.
Subscribe in a reader