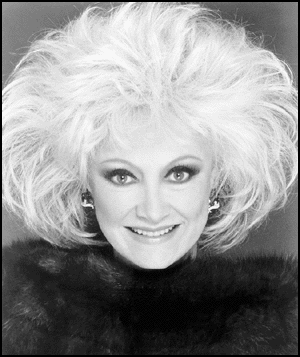 Thanks to all for the many comments and for the enthusiastic initial response to the blogathonging. The daily entries, though shorter then my previous verbose digressions, will continue apace. Although I'm tempted to take the weekend off. How much blather can one person truly be expected to produce?
Perhaps some of you may recall me mentioning over this past year that I've been shooting footage for a documentary about the history of cabaret. My partner in this venture, James Gavin, wrote a terrific book on the subject called "Intimate Nights" and we are, in essence, making a filmed record of his book. Thus far we've had amazing luck in getting some remarkable people to sit down and be interviewed--among them Lily Tomlin, Orson Bean, Dick Cavett, Dixie Carter, Joan Rivers, Shelley Berman, Kaye Ballard. Well, just a week ago we had the honor of meeting and interviewing the woman who truly started it all for female comics, the great Phyllis Diller. Ms. Diller is ninety-two years old and still has the same delivery, the same sense of humor and..
.that same trademark laugh!
If you're like me, you grew up seeing Madam Diller on Bob Hope shows, in movies, on Laugh In, in commercials etc. Later I heard records of her stand up club act (which is what we were interviewing her about) and was amazed at the pace of her humor, the relentless joke upon joke upon joke engine that she commanded. But there were a few things that I didnt know about her. Such as:
1) She had five children and was a housewife/mother in Alameda California before she even attempted a career in comedy--she was well into her thirties when she got her start in the nightclubs.
2) She's a wonderful painter--her pictures sell for quite a bit of moolah and many adorn the walls of her lovely old mansion in Brentwood.
3) Get this: she's a concert pianist! Trained. The whole shmeer! Who knew?
4) Her living room has a portrait of Bob Hope on an easel.
Here I am with Madam. Click to enlarge, if you dare:
Below I've posted a couple of Phyllis clips. The first is one of her classic stand-up routines--about her "bird legs" (interestingly she didn't recall this particular routine when I mentioned it to her). The second is a real curio--an appearence on TV where she plays piano with an obviously drunk Liberace. Enjoy. And before heading off into the weekend, remember that mantra:
"City Island" is your movie. Help us get the word out. Forward this blog to your friends and enemies alike. Comment on our Facebook page (I'll check in on that every day as well).
And don't forget the ever-delightful, still confounding Twitter stream.
Take it, Madam...
Subscribe in a reader