First, thanks for the many lucid and adventurous ideas about selling our movie. Resolved: the internet has become the omnipotent source for information--these days the newspaper ads seem to exist largely to direct you to a theater where you can see a movie you've heard about on the web--and we'll be regularly Facebooking and Tweeting. As the release nears, I'll be posting production stills galore which will also hopefully drive up people's interest in the movie.
Over the past couple of weeks I've been dropping my son off at soccer practice at a park adjacent to the Santa Monica Airport--an airfield devoted entirely to flight schools and private aircraft. The sight of all of those cool little Cessnas and Piper Cubs got me thinking again about aviation (many MANY years ago I took a lesson or two) as well as wondering about the history of Santa Monica Airport. It turns out that it was formerly known as "Clover Field"--and that name still exists as a nearby street and an exit off the Santa Monica Freeway (Cloverfield). In the twenties and early thirties Clover Field was the location of choice (and probably necessity as well) for Hollywood Aerial stunt movies--"Hells Angels", "The Dawn Patrol" and others used the skies right over my sons soccer field for some of their awesome stunt work. The stunt work, or course, was anti-digital in the extreme which is to say totally analogue. No special effects yet existed. (Or does the purity of the actual stunting in fact make it "digital" in the extreme? Hmm...) Flyers were routinely killed doing these movies and it all seemed to be part of the culture--in those days movie making was a kind of all-purpose halfway house for people who'd knocked about in various roughouse pursuits--cowboys, flyers, stunt people, slapstick vaudevillians...failed drunken writers.
What has this to do with "City Island"
? Does everything have to have something to do with "City Island"
? Yes. At least for the next few months. Bear with me...
So I'm having coffee at the "Spitfire Grill", checking out the nifty planes and get it into my head that a little field trip to see some vintage planes might be a good Saturday activity for me and the kid. Off we go to "Planes Of Fame", in Chino (yes, for Goddsakes, Chino!) California--one of the greatest collection of vintage aircraft ever assembled and the site of one of the best air shows on earth (so goes the publicity...I haven't seen it). While touring the many hangars filled with planes--and there are some rather amazing finds: old Japanese "human missiles", Nazi war planes, a B-17 that is being restored that you can climb in etc.--we found a Sopwith Camel.
Now if you are or have ever been a reader of "Peanuts", you'll know that the Sopwith Camel is the plane Snoopy flies while battling the Red Baron. The damn things exist. And in Chino! (For Goddsakes, Chino...) Before moving on to how all this intersects with City Island, allow me to share an extraordinary piece of film with you. In ghostly silence, observe a forgotten day back in the spring of 1917 and watch the brave men of the air load up the ammo, hand push the beastly Sopwith down the field, and then take this spectacularly effective fighter plane off into the blue. Dig...
Now back to how this intersects with "City Island". As mentioned at the top of the post, we are preparing to enter "sell hell"--the mode of thinking in which EVERYTHING is geared toward getting peoples asses in theater seats on the opening weekends. Somehow one assumes that this wasn't a problem back in the old days--that movies were more of a habit and people just went to see whatever was thrown up on the local screen. But the below clip exposes this as the canard it is.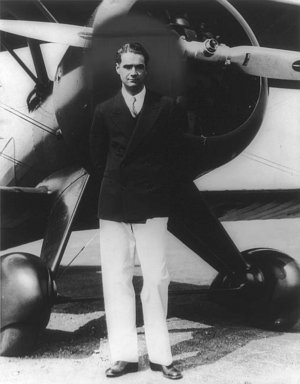 Apparently, Howard Hughes felt the need to seriously hype his World War 1 aviation epic "Hells Angels" and did so by creating the following promotional reel. I don't know who the poor man is who is forced to deliver the following lecture, but it must rate as one of the least effective, dullest and most poorly conceived attempts at hype ever produced. Then again, things were different in 1930 and it's possible that the below clip sent people into paroxysms of frenetic, mouth-watering anticipatory glee. Somehow, I doubt it. Still, here we are looking at it eighty years later. "Hells Angels", by the way, took so long to make that after two years of photography (1927-29) sound had come in, rendering the finished product useless. Hughes had to go back and reshoot all the diaglogue scenes, adding another year to production--reference is made to this unusually lengthy time span in the below reel. By the way, the clip at the opening features brief candid glimpses of celebrities attending the "Hells Angels" premiere. FIrst is Dolores Del Rio, followed by a somewhat drunken Buster Keaton, and then a brief and tantalizing glimpse (but no voice) of Charlie Chaplin, au natural sans moustache...
Subscribe in a reader