Having exhausted my store of "City Island" outtakes, I've taken to shamelessly plundering youtube for outtakes from other films. First up was Jon Favreau's "Made" (see five posts ago?), next was the collection of Warner Brothers 1930's bloopers (see three posts ago?) Now it's time for Carol Lombard and William Powell to swear angrily at themselves when they blow their lines in outtakes from the 1936 classic "My Man Godfrey". The question of why we still find blooper reels amusing has no sensible answer; seeing actors get pissed off at themselves and break the fourth wall is, like grilled cheese sandwiches, Checker Cabs and Lawrence Welk re-runs, one of life's inexplicable pleasures.
And so to "My Man Godfrey" and it's director. If you don't know the film, by all means see it as soon as possible--along with "The Awful Truth" and "Bringing Up Baby" it defines the 1930's screwball comedy and still manages to remain wonderfully funny and romantic even if the thirties are not especially your thing (and if that's the case, I say...feh!). If you don't grasp what screwball comedy was, by all means look it up on Google and read any of a number of scholarly articles out there on this sub-genre of the depression years--I hardly need to add my two cents to the vast literature written on the subject. My real concern in this post isn't the genre, or Carol Lombard's line-flubs (delightful though they are--largely because of her supremely foul mouth)...but the forgotten director of "My Man Godfrey", the strikingly named and strangely enigmatic Gregory La Cava.
La Cava was an animator in the 1920's, working with Walter Lantz (later of "Woody Woodpecker" fame) on "The Katenjammer Kids" and eventually graduating to director of real, live people--if you consider that an accurate description of W.C. Fields--at the end of the silent era. (His Fields films are all silents--I've never bothered to watch a silent Fields, assuming that without his voice he's minus too major an element to bother with...I have the same feeling about the silent Laurel&Hardy's). (By the way--Fields also found La Cava's name striking, as witness the handful of times he dropped it in referring to one or another offscreen characters, i.e. "Ask Mrs. La Cava if she needs a milk delivery..." etc.) In the early sound era, La Cava proved more aware than many directors at realizing that talkies were slower and potentially more deadly in pacing than the late silents had been; indeed, he became something of a maniac about challenging that development. La Cava's best known early work--the deeply strange "Gabriel Over the White House" and "Symphony Of Six Million"--still feel sharper, more cinematic, more assured than many other movies of the early thirties. (This excludes Warner Brothers movies which, oddly, always seemed to grasp the necessity for pace. Why was this? I like to think it was something mundane along the lines of directors having less stock to shoot with and being forced to hurry the actors up before a rollout occurred).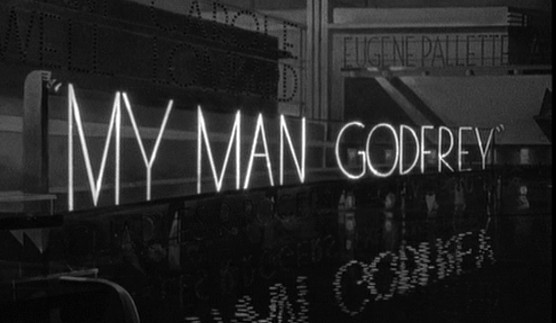 It was a few years later, though, that La Cava hit the jackpot with the film that made him an A-lister, "My Man Godfrey". This was followed closely by what I think is his best film, the Katherine Hepburn-Ginger Rogers starring (and Eve Arden-Lucille Ball featuring) "Stage Door" (1937). La Cava was, apparently, an early exponent of improvisation within a scripted framework--Leo McCarey was as well--and it appears that this was both a benefit to his reputation as well as his eventual undoing. For while working with strong scripts (Morrie Ryskind contributed to both "Godfrey" and "Stage Door" and both films' source material was solid--the former a novel by Eric Hatch, the latter a hit Broadway play by George S. Kaufman and Edna Ferber), La Cava's loose approach seemed to result in a freedom of performance that you don't see in other films--save McCarey's and Hawks's. I'm not even certain that he was doing precisely what we think of as improvisation--the lines don't sound made up...rather the scenes feel freshly spontaneous and perhaps reworked with the actors so as to get the maximum invention and spontaneity out of the players. Actors, I've found, who enjoy being loose are far more believable and charismatic when you as a director let them "go"--let them invent and depart from the exact wording of the script. La Cava seemed to do something along this order--even the outtakes of "Godfrey" which I've posted below seem faster, looser, funnier...less self-conscious. Indeed, the performances of the whole cast in both "Godfrey" and "Stage Door" seem downright cozy. In the day of the sacred script and controlling Producer, La Cava was a rebel--an auteur before the word had reached our shores who believed movies were made on the set, not in the offices prior to the shooting. His methods apparently provoked confusion and dismay among everyone except the actors, most of whom seemed to have revered him. In this sense he was also ahead of his time--not regarding actors as "cattle" but realizing the potential inherent in making the actors his collaborators. In some ways, discussing La Cava feels eerily like discussing Altman--who nobody seems to have enjoyed much except the actors as well. In the era of the contract director, La Cava moved studios almost picture to picture--a sign that he was more interested in his art than he was in his job.
Tomorrow I'll post reflections on La Cava from other directors and actors as well as a couple of clips from "Stage Door". Below I've also posted the first reel of "Godfrey" betting that, if you watch it, you'll be hooked into viewing the whole film which is available--among other places--in a dozen parts on youtube.
Subscribe in a reader