Herewith three more installments (thus completing the one-hour installation on silent directors) from the Kevin Brownlow/David Gill epic "Hollywod" (see previous post if you have no idea what I'm rattling on about). In these sections, Brownlow and Gill focus on the three most innovative directors of the silent era: Rex Ingram, F.W. Murnau and King Vidor.


Ingram (pictured above), the most forgotten of the three, is lovingly evoked in Michael Powell's two-part autobiography--Powell worked for him when Ingram abandoned Hollywood and opened his own studio in Nice (a pre-Coppola off-Hollywood move if ever there was one...and as pre-destined to fail as most other attempts made over the years by other maverick filmmakers to break free of the studio cycle). Read this fine Wikipedia entry for a good introduction to this maverick's career and life. Ingram, hugely successful in the early twenties, was finished by the dawn of sound and lived another twenty years in ignominy...though Powell recounts a lovely last meeting in the late forties while he (Powell) was touring the states with his smash hit movie "The Red Shoes". Though initially reluctant to visit his forgotten mentor whilst soaked in the scent of success himself, Powell found Ingram suave, accepting and wonderfully proud that his protege was carrying on the torch for films as artistic endeavors--which Ingram had been far ahead of his time in espousing. Murnau, far better remembered ("Sunrise" is still quite an experience to view) is also given the full treatment in part three...
And part four carries on with Murnau, featuring a very interesting interview with Janet Gaynor, and clips of what appear to be dailies from "Sunrise". (Dig the forced perspective city set and the fact that he used children dressed as adults in the far distance to help sell the size and scope of the city...) Read this Wiki entry for a good overall perspective on this fascinating innovator--who died too young in a car crash. Edgar G. Ulmer, when interviewed by Peter Bogdanovich, recalled working with Murnau (I believe as a set designer) and, like Gaynor, principally remembers the man's fanatic insistence on getting things precisely as he wanted them--"the tenacity of Murnau" is Ulmer's complimentary and exasperated phrase.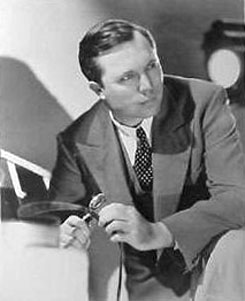 And then we get into King Vidor and "The Crowd", which takes up the rest of part five...and I'm sorry to say that the singular focus on "The Crowd" is, to me, to the documentary's detriment--there is simply far too much of this film on view here while many other interesting films and directors are completely overlooked. Still the Vidor interview is interesting and touching and the scene at the end--when the James Murray character is suicidal and his little boy coaxes him into going on would make a stone cry. While "The Crowd" was certainly a great achievement, I find it a somewhat pious choice--you know those lists of "greatest films of all times" that always used to turn up with "Kane" and "The Bicycle Theif" and "Open City" and "Grand Illusion" on them? Somehow for me, "The Crowd" belongs to that era of thought--the Museum Of Modern Art/Richard Griffith/Paul Rotha/Willard Van Dyke/Lotte Eisner defensively poised "films can be art" movement.
By the way, if silent film is of interest to you, allow me to direct you to the incredibly interesting and rather darkly amusing weblog of that Prussian Count Ferdinand Von Galitzien, whose ruminations on all things silent, foreign and tinged with decadence have brought me great pleasure over the past year or so.
Subscribe in a reader