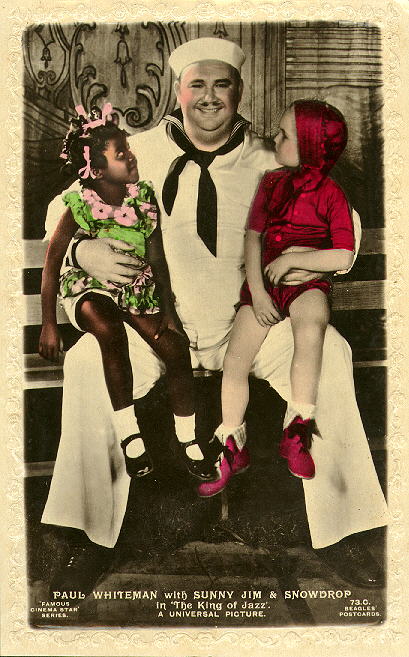 Happy New Year. As I was saying before we were so rudely interrupted by the end of year holiday weekend: "King Of Jazz", a Universal musical revue featuring Paul Whiteman's orchestra from 1930, has little to do with jazz but contains some remarkable imagery and a handful of gem-like musical performances (see the Crosby post 12/26 with the Rhythm Boys) and is, one way or another, essential viewing for anyone interested in what the state of the art of music and cinema was during the 1920's and early 30's. It might be viewed, in fact, as something of a companion piece to Paul Fejos' remarkable "Broadway" (see my 9/12 and 9/13 posts) shot earlier in 1929 (or perhaps late '28) and using some of the same over the top camera work, sets and effects. Some sources cite Fejos as an uncredited co-director on "King Of Jazz"--this could very well be the case as the credited director, the stage impresario John Murray Andersen, had never before made a movie (and never would again) and it would stand to reason that the camera-savvy Fejos might have been thought by Universal to be necessary as a form of "insurance". Additionally both films were made for Universal in the two-color technicolor process, of which more in a few paragraphs.
Fortunately, "King Of Jazz" has been more or less available over the years--unlike so many of the era's similar pictures which were sloppily treated, oftentimes flat-out discarded and are now considered "lost" ("Gold Diggers of Broadway" being the holy grail of these films; only a piece of the final remarkable reel of this film is extant). Unfortunately when "King Of Jazz" was originally released it was a commercial disappointment and, in the ensuing years, a number of sketches and musical numbers were edited out of it in preparation for a re-issue that eventually happened in 1934. It is this cut that has, for the most part, been in circulation over the years though the full print is extant. (An enterprising youtuber has posted the entire film in ten or so parts--I've yet to watch this version to see if it's the uncut one). The cut material included some songs that were dropped because they apparently offended the standards of the Production Code which had imposed itself in the years between the films making and its reissue and others because they already appeared dated just a few years after the film was made. Though the truth is I can't imagine a frame of "King Of Jazz"--which is a very 1920's production in conception, taste and pacing--not appearing quite seriously outdated to a 1934 audience. There is, after all, a somewhat staggering difference between a musical of the 1929/1930 era and the rejuvenated musicals which began pouring out of Warner Brothers just two to three years later. The pace of the dialogue and the better acting aside, the songs were integrated--for the most part--and the shooting techniques were markedly more sophisticated. (Just try watching, say, "Rio Rita" from 1929 next to, say, "Forty Second Street" from just three years hence and you'll think they were made in different centuries). I'm not sure what the 1934 audience thought of "King Of Jazz" but I'll bet my spot on the breadline that they wished they were watching "Dames" or "Dancing Lady".
Below I've posted the quite remarkable "Rhapsody In Blue" sequence from "King Of Jazz". It is abridged I believe--it runs under ten minutes and most recordings of the Rhapsody are double that--but I can't quite hear what's been cut. Is it possible they just play it faster? It features Roy Bargy playing the piano part--and quite a good job of it he does--but the real star is the giant prop piano that appears to be made out of marzipan. Again, these oversize props were a staple of the period (see my Laurel&Hardy Xmas day posting of the complete "Brats") and I can't imagine what the soundstages of these movies must have actually looked like. The "Rhapsody" prop piano is large enough to hold the entire Whiteman orchestra under it's lid--and this doesn't appear to be an in-camera superimposition.
"King Of Jazz" also features several important firsts--it was, apparently, the first musical to use pre-recorded music and have the musicians mime to play-back. This was due to Whiteman's insistance that the quality of the recording had to be better than what was currently the standard in musicals--for some reason this entirely reasonable and correct idea was a major source of friction between him and Universal and, of course, once he won the battle everyone immediately saw how silly and unnecssarily limiting it was recording the music the old way, live on the set. Also, as I mentioned earlier, the film was shot in the early two strip technicolor process--using only red and green filters. This led to some pretty strange effects which time has not helped--the film currently has a sickly green tone to it that looks something like a Ted Turner colorization attempt gone sour. Read this link if you want to know more about the travails of the technicolor process.I can barely understand it, much less summarize it for you. I've also posted a sequence in which Whiteman introduces the band--on view are the legendary Joe Venuti (violin) and Eddie Lange, a great and innovative jazz guitarist who died--the victim of a botched tonsillectomy--only three years after being captured here forever on celluloid.