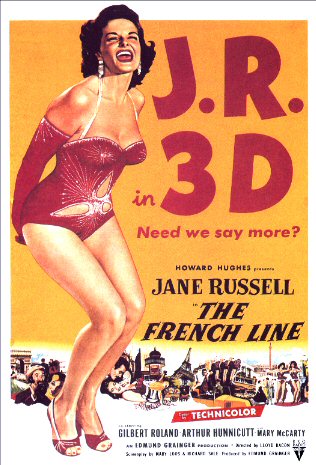 "Macao", a 1952 semi-noir starring Jane Russell and Robert Mitchum and directed by the fast-fading Josef Von Sternberg, used to turn up quite regularly on the old AMC (the pre-commercials, Bob Dorian era incarnation of the channel). I remember finding it amusingly sordid and somewhat perplexingly off-kilter--scenes not really going where you'd think, the whole enterprise having the aura of being somewhat improvised (somewhat like "Gilda"--see 11/7 and 11/9 posts). Recently, I read two accounts of the end of the Howard Hughes-era at RKO. One, in Lee Server's marvelous biography of Mitchum, detailed the making of "His Kind Of Woman"-also co-starring Russell and Mitchum and directed by John Farrow and then re-directed almost entirely (in three seperate attempts due to cast changes provoked by Hughsian whim) by Richard Fleischer. The other, detailing the extensive revisions in "Macao" is in Bernard Eisenschitz's meticulous biography "Nicholas Ray: An American Journey".
The haphazard nature of both films--both method and resulting work--was not uncommon in the waning days of Hughes' career as a studio cheif. His madness, though quite obvious to those around him, continued to go unquestioned--why the hell would you question your boss when your under contract to do whatever nutty thing he asks? So writers, producers and directors all reported to work and uncomplainingly (perhaps even with a nudge and wink) endlessly rewrote and re-shot films to satisfy Hughes' various obsessive compulsive tics. Jane Russell was probably the actress he fretted most over--the merest shadow on her bosom, or the possibility that there was more bosom to exploit than the current costume currently exploited--was an instant call for reshoots, re-costumings, new hair-dos, new songs etc. "Macao" was so endlessly tinkered with by a succession of directors (Nicholas Ray is said to have re-shot one-third of the film, but Robert Stevenson and Mel Ferrer also had their hands in a good deal of it) that Von Sternberg later disowned the film and commented that "instead of fingers in a pie, half a dozen clowns immersed various parts of their anatomy in it." If you enjoy that last sentence as much as I do, go out and find a copy of Von Sternberg's brilliantly snide autobiography "Fun In A Chinese Laundry"--long out of print but internettishly findable I'm sure.
Below are two clips. The first, from "Macao", is Jane singing "You Kill Me". While not much of a song, it's nicely shot and staged with some elaborate moves and high-angles thrown in by a clearly bored Von Sternberg (according to Eisenschitz, this material was shot by him, although he also mentions that when Nicholas Ray re-shot Von Sternberg's material, he made sure to mimic the older directors very expressive, exotic style). The second clip is from the last Jane Russell/Howard Hughes film, "The French Line", a movie about which absolutely nothing need be said except perhaps having to do with the below clip. You see, "The French LIne" was shot in 3-D and the below number, "Looking For Trouble", a kind of Gilda-esque striptease for Jane, was filled with close-ups of Jane grinding and bumping her way into your plastic glasses--apparently it was quite effective because the Legion Of Decency condemned it and Hughes, after sucking as much publicity as he could out of the furor, released the film "flat" and recut the scene so as to play it largely in a long shot. That's the version posted below. But apparently the restored 3-D exists--complete with close-ups of Jane's anatomy in dazzling dimensions-- and provoked quite a response when screened at last summer's 3-D festival at the Egyptian Theater in Hollywood.